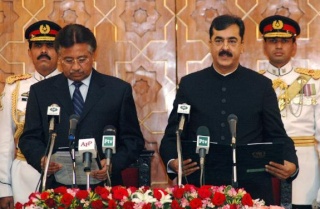 ISLAMABAD, Pakistan, Aug. 18 (UPI) -- The events leading up to embattled Pakistani President Pervez Musharraf's resignation Monday may have left him with no other choice.
Last year, amid growing Islamist violence and massive shortages, Musharraf took the unpopular step of bringing the country briefly under emergency rule and sacked a number of judges for fear they might question the constitutionality of his winning a second term.
Those actions triggered massive public protests against his government and lead to the election in March of an opposition coalition, which pledged to restore the judiciary.
Musharraf was forced to resign as head of the army. More recently pressure increased for him to resign the presidency as well, or face impeachment for alleged corruption and violations of the constitution, CNN reported.
"Leading Pakistan is not an easy task, and anyone doing it comes under a lot of criticism," a Karachi commodities trader told CNN.
Musharaff still has some supporters, said Faisal Kapadia, because "the new government, which promised to do things differently, has failed to do much in the past 100 days in power."
To his credit, Musharraf's rule included parliamentary reforms, a freer press and respectable growth and a generally favorable investment climate, the report said.

_________________
I don't agree with what you say, but I will defend to the death your right to say it. - Voltaire